This is a great article talking about the update that Google did to their algorithm which was supposed to penalize people who had sites that were not mobile responsive.  If you have an older site that doesn't display on mobile devices this update could very well effect your business website.  If you are in a position to make the change to mobile today I would suggest doing it just to be safe (plus it is great for people visiting your site anyway).  But if you can't make the change today please make sure you are monitoring your website traffic to see if it does make a difference.  You may find that you are losing more business then what it would cost to fix the problem in the first place so keep an eye on that.  If you would like to see what Jacksonville Website Development can do to help you out please watch the video below and get in touch with us today.
A day after the alleged major update, I thought it would make sense to highlight where we are at in the cycle.
Yesterday Google suggested their fear messaging caused 4.7% of webmasters to move over to mobile friendly design since the update was originally announced a few months ago.
The 4.7% of the websites Google pushed to go mobile friendly likely include some sites which would have been mobile friendly anyhow by virtue of being new sites on hosted platforms with responsive designs. But for the rest of the sites, was the shift worth it?
That is a tough question.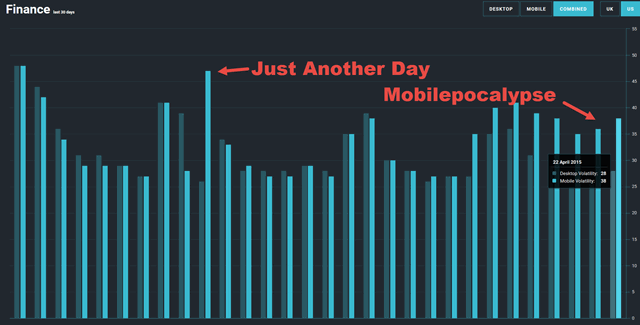 It is too early to tell.
The problem with going early is you eat the expense upfront, while the rewards are still unknown.
If you are spending your own time & money and you believe in what you are doing and the longevity of a project then it doesn't matter too much if the rewards come slowly or never come. A sense of purpose & a sense of pride in your work is a form of payment.
However, if you are spending a client's money & you ring a 5 alarm fire to rush to make some technical change & then see no upside after the much hyped announcement, that erodes client trust. If there is no upside and a huge drop in revenue, then the consultant looks like a clueless idiot burning money for the sake of it doing various make work projects.
A few years ago a Google rep stated Panda would be folded into the regular algorithms. Then recently we were told it was a near realtime. Then we were told it was something where updates needed to be manually pushed out & it is something Google hasn't done in 4 months. If we trusted Google & conveyed any of these messages to clients, once again we looked like idiots. If we choose to invest client money based on the cycles and advice we are given, quite often that is a money incinerator.
See full story on seobook.com